Lake Forest Park, Washington
Amy Legg & Kellie Watts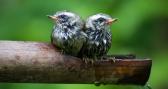 We're passionate about birds and nature. That's why we opened a Wild Birds Unlimited Nature Shop in our community.
Lake Forest Park, Washington
17171 Bothell Way NE, #A007
Lake Forest Park, WA 98155
Phone: (206) 367-1950
Fax: (206) 367-1871
Email: Send Message
Store Hours:
Mon - Wed: 10:00 am - 6:00 pm
Thurs: 10:00 am - 7:00 pm
Fri - Sat: 10:00 am - 6:00 pm
Sun: 11:00 am - 5:00 pm



Suet is available at a lot of stores. However, not all suet is created equal, and finding the best for your birds can be tricky if you just grab the least expensive option on the shelf. Look at all we do to provide your birds with the best, most nutritional suet.
We use the highest quality food grade tallow/beef suet to ensure quality and freshness.

Our suet blends are formulated with increased amounts of fat and protein to provide birds with a nutritious, high-energy food.

Our suet blends include ingredients that are proven to be more attractive to birds - peanuts, tree nuts, fruit and mealworms.

We never add undesirable fillers or unnecessary vitamins or minerals.
Stop by the store to pick up some suet; your birds will know the difference.
How to Attract More Birds with Suet