Lake Forest Park, Washington
Amy Legg & Kellie Watts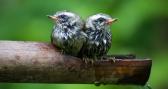 We're passionate about birds and nature. That's why we opened a Wild Birds Unlimited Nature Shop in our community.
Lake Forest Park, Washington
17171 Bothell Way NE, #A007
Lake Forest Park, WA 98155
Phone: (206) 367-1950
Fax: (206) 367-1871
Email: Send Message
Store Hours:
Mon - Wed: 10:00 am - 6:00 pm
Thurs: 10:00 am - 7:00 pm
Fri - Sat: 10:00 am - 6:00 pm
Sun: 11:00 am - 5:00 pm


Millikin University recently completed a study on the "Effects of Bird-feeding Activities on the Health of Wild Birds". Highlights include:
Re-confirmation that wild birds use feeders as a supplemental source of food and do not become dependent upon feeders for their survival. This is why it is important to keep your feeders full 365-days a year.

A constant, predictable food source, even if only supplementary to the natural diet, helps support physiological processes that improve the overall health and body condition of the wild birds that utilize this food.This was demonstrated by increased antioxidant levels, reduced stress levels, higher quality feather growth, improved body condition index scores and a stronger immune defense system.

There was a consistent pattern of greater overall health for birds at sites where supplemental feeders were present.

Consistent bird feeding is necessary to maintain the additional health benefits derived from supplemental feeding. Ten months after all of the feeders were removed from the feeding station study sites, the health indicators of re-captured birds had returned to equivalent levels as the birds from the non-feeder control sites.
More Information can be found at https://www.millikin.edu/news/impact-wild-bird-feeding.