Lake Forest Park, Washington
Amy Legg & Kellie Watts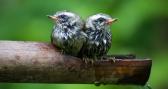 We're passionate about birds and nature. That's why we opened a Wild Birds Unlimited Nature Shop in our community.
Lake Forest Park, Washington
17171 Bothell Way NE, #A007
Lake Forest Park, WA 98155
Phone: (206) 367-1950
Fax: (206) 367-1871
Email: Send Message
Store Hours:
Mon - Wed: 10:00 am - 6:00 pm
Thurs: 10:00 am - 7:00 pm
Fri - Sat: 10:00 am - 6:00 pm
Sun: 11:00 am - 5:00 pm


Meet our Team! We are incredibly proud of everything these folks do to make your customer experience the best it can be. Their expertise on the backyard bird feeding hobby is unmatched!
L to R: Kellie (owner), Amy (owner), Craig, Daphne, Debby, Julia, Rebecca, and Kelsey. Not pictured, Victoria, a local high school student who is our backroom assistant).