IN-STORE SHOPPING TEMPORARILY SUSPENDED; CURBSIDE PICK UP AND ONLINE ORDERING THROUGH MYWBU NOW AVAILABLE
Note: To comply with Governor Inslee's extension of the Stay-At-Home order until May 31, our Lake Forest Park Wild Birds Unlimited location will remain open only via Curbside Pickup and through our online store at MyWBU in our effort to meet your backyard bird feeding needs. Stay healthy and safe! #seattlestrong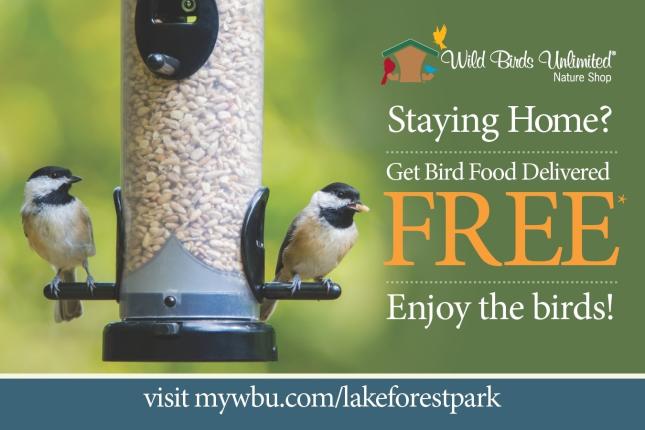 Most retailers in the Seattle area who have taken dramatic steps to slow the spread of COVID-19 and our Lake Forest Park team is compelled to take similar action to protect our customers and our employees.
That is why the Lake Forest Park Wild Birds Unlimited store will be temporarily closed to in-store shopping until further notice. However, we have other options to make sure you can still enjoy your hobby and FEED THE BIRDS!
Curbside Pick-Up Service: Easy as 1-2-3!
1. Place your order by calling us at (206) 367-1950. Monday - Friday from 10:00 a.m.- 6:00 p.m.
2. Come to the store and pull up to the curb. Then pop open your trunk and wait in your car. We will see you!
3. We'll bring your order to your car and place it in the trunk. No personal contact required! (But we can still smile and wave and even clean where we've touched!)
ORDER ONLINE
Of course we are ready to serve you at MyWBU.com/lakeforestpark where you can order all your favorite products online with fast and free delivery for orders over $75.00 and a flat rate shipping rate of $7.99 for most other orders under $75.00. You can also opt for Store Pickup and we will have your order ready during the days and hours above.
We hope you understand that this is a temporary action so we can do our part to help contain the spread of the virus.
Our ultimate goal in these trying times is to make you, our valued customer, feel safe while still being able to enjoy the hobby of backyard bird feeding. As always, feel free to contact the store at (206) 367-1950 if you have any questions or concerns.
The Lake Forest Park Wild Birds Unlimited Team
Get updated product and hobby information by clicking on the "Visit Our Store Site" link on the left side or top of the page.